*
my photo from instagram
I started doing this easy nail style a few months ago and since I frequently get asked how to achieve the look I thought I'd share a quick tutorial here. The style is inspired by vintage "half moon" nails you'll often find in advertisements from the 50s and 60s and more recently, often worn by Dita Von Teese. And I think the red and gold combination makes for perfect "holiday" nails--the type of nails that go with party dresses. The best part is while these nails look very old school Hollywood, they're one of the easiest styles to do yourself.
What you need: two colors of nail polish (I'm using OPI's Mr. Right Now and Sephora x Pantone Latte) and reinforcement labels.
Apply your base coat; while any number of color combinations will work for this tutorial I suggest you apply the lighter shade first. I applied two coats of my gold polish and allowed my nails to dry for five minutes. (For Dita Von Teese style nails, skip the base coat and apply the stickers to bare nails.)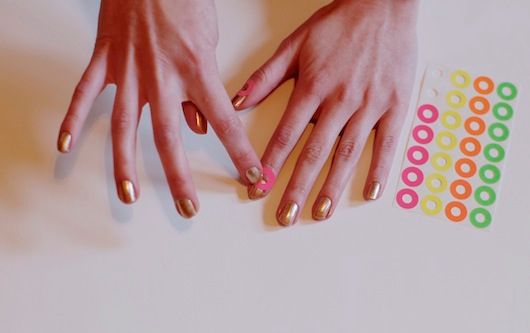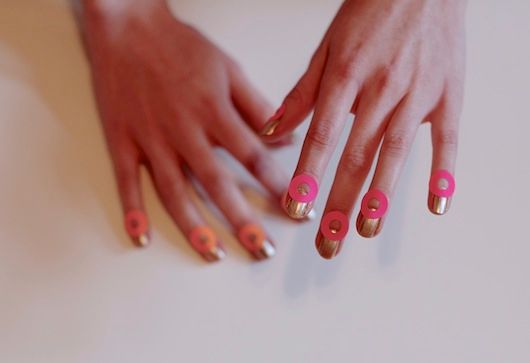 Once your nails are dry apply your reinforcement stickers. You don't want your polish to be tacky or the stickers might pull some of your varnish off. Be sure to push the sticker firmly against the nail to prevent any nail polish leaking in the next step.
Apply your second nail color; I used two coats of the red.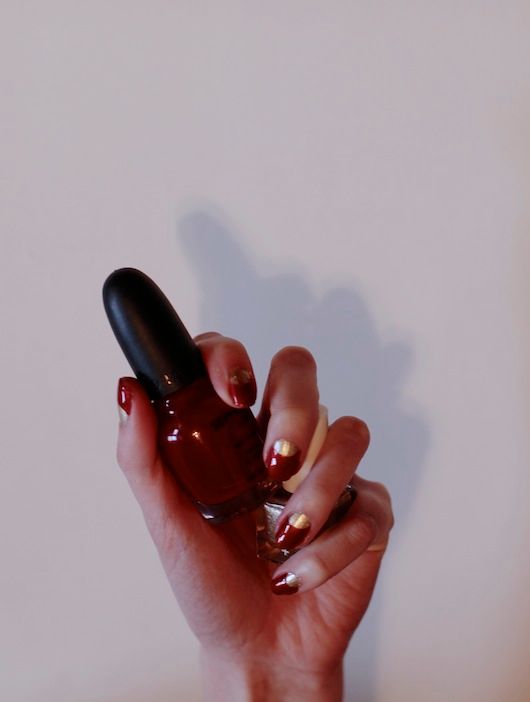 Let the nail polish dry for a few minutes and then remove the stickers. You can apply a clear top coat to make the style last longer and you're done!